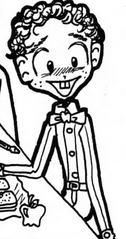 Theodore L. Swagmire III is one of the unpopular boys at Westchester Country Day. He is good friends with Brandon and Nikki. He had a huge crush on MacKenzie .He is known for being the school nerd. In Dork Diaries 3, Tales From a Not-So-Talented Pop Star, it is revealed he plays guitar. He tried out for Nikki's band, Actually, I'm Not Really Sure Yet! and was accepted. In Dork Daries 6, Tales from a Not-so-Happy-Heartbreaker, he was firting with Zoey after band practice and later they seem to go to the Sweetheart dance together.
His family owns Queasy Cheesy.
Brandon's birthday party took place at his house.
His choice of school is..........Hogwarts!
He wants to save his allowance to buy a magic wand.
He took Zoey to the Sweetheart dance.
His hair or eye color will possibly be mentioned in the next book but his hair is possibly brown blonde black or mixed and his eyes are similiar to Chloe's
Ad blocker interference detected!
Wikia is a free-to-use site that makes money from advertising. We have a modified experience for viewers using ad blockers

Wikia is not accessible if you've made further modifications. Remove the custom ad blocker rule(s) and the page will load as expected.